MIDORI HIRANO IN CONCERT
SEXTO meets FEFF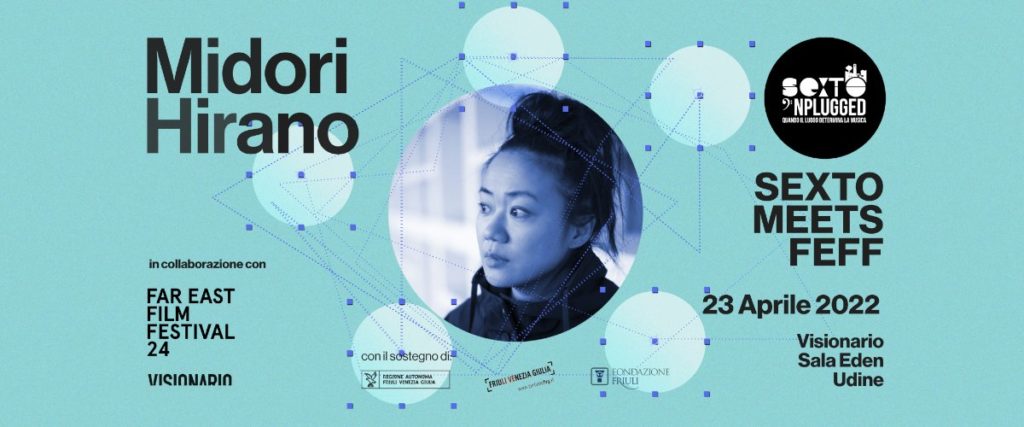 MIDORI HIRANO IN CONCERT
Saturday 23rd April – 9 p.m. – Visionario, Udine
A musician painting wonderful sound
landscapes in perfect balance between past
and future, between experimentation and
Japanese tradition
This event is born out of the collaboration
between
Sexto 'Nplugged and Far East Film Festival.
UDINE – Pianist, composer, producer. It's not easy to put Midori Hirano in a box, or define her, just like it isn't easy to contain her music within a single genre. Minimalism? Neoclassicism? On Saturday 23rd April, at 9 p.m, this incredible painter of sound landscapes will perform on stage at the Visionario in Udine under the double flag of Sexto 'Nplugged, one of theclassiest contemporary music festivals, and of Far East Film Festival, the biggest European event dedicated to popular Asian cinema.
Presale is already open online (www.visionario.movie) as well as at the Visionario desk. Ticket price: 20€.
Born in Kyoto in 1979 e active in Berlin since 2008, Midori Hirano moves seamlessly between past and present. Between experimentation and tradition (where acoustic instruments such as piano, strings and guitars meet more modern and experimental electronic sound shapes). Her first official release,
LushRush, came out in 2006, hitting international critics straight in the heart. Then, with the follow-up klo:yuri, Midori's journey took on the path of research. And she has never looked back since…
Seven solo albums (the latest, Soniscope, released in 2021), hundreds of live shows (Boiler Room Berlin, Club Transmediale, Heroines of Sound Festival, Rotterdam International Film Festival, L.E.V. Festival), several productions for video installations, dance and cinema. Some of the films whose soundtracks she has contributed to have been presented at the Berlin International Film Festival, the Oberhausen International Short Film Festival, the Krakow Film Festival e the Hong Kong International Film Festival,
amongst others.
We would like to remind you that the Far East Film Festival 24 takes place in Udine from 22nd to 30th April , both in the headquarters of Teatro Nuovo and in the spaces of Visionario, which is where Midori Hirano will perform. An unmissable electro – acoustic set where colourful harmonies from Japan will play with musical cinematic atmospheres.
/////
Press office / Far East Film Festival 24
Gianmatteo Pellizzari & Ippolita Nigris Cosattini
+39 0432 299545
feff@cecudine.org – stampafareastfilm@gmail.com
/////
Press office / Sexto 'Nplugged
Elisa Russo
+39 0434 699134 / +39 329 8197867
www.sextonplugged.it
press@sextonplugged.it
culturalesexto@gmail.com